Our aim for Diversity and Inclusion at Nomura is simple – we want to harness the value of diversity to create a sustainable organisation, and drive performance, revenue, market share and profit. Our Diversity & Inclusion team partners into all employees to embed diversity into how we do business.
We define diversity as all the ways in which people differ. These differences can be dimensions of identity such as gender, race, age, as well as less visible dimensions such as class, education, sexual orientation, religion, social styles, thinking styles.
The value of diversity is reflected in our people, our clients and our shareholders.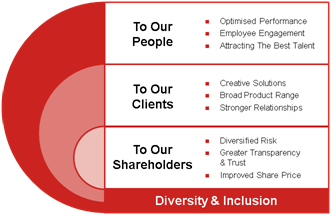 Diversity is critical to our success as a firm and to our ability to attract, develop, engage and retain the very best people, regardless of their background, from the widest talent pools. We seek to:
Create a culture that fosters teamwork, eliminates "group think" and encourages the open exchange of ideas and excellence in all we do
Remove any internal barriers and bias which may hinder performance or progression of our people
Foster an inclusive work environment where every individual is valued, their talents are fully utilised and they have the opportunity to maximise their contribution to the firm
Create a culture of accountability to ensure we embed a mindset of diversity in everything we do
Nomura is committed to fostering an inclusive work environment, where our people can and do realise their full potential. Our employee networks, our inclusive benefits plans and our workplace practices and policies are all designed to help us achieve this goal.