Nomura is committed to a culture wherein continuous learning is an integral part of one's career. Investing in building the skills and knowledge-base of our Analysts & Associates is critical to the long term success of our organization.
Upon joining the firm, our graduate hires are provided with extensive opportunities for self-development and growth, through our structured initial training and ongoing education programs. Moreover, as part of a global and diverse cohort, our graduate classes bring a variety of perspectives, experiences and knowledge – which provides a thriving source of peer-to-peer learning.
The core curriculum for Analysts & Associates is framed around four pillars: technical skills, business expertise, personal impact and network/ connectivity. Upon completing the graduate program, which typically lasts between 2-3 years, individuals have access to firm-wide learning and development opportunities.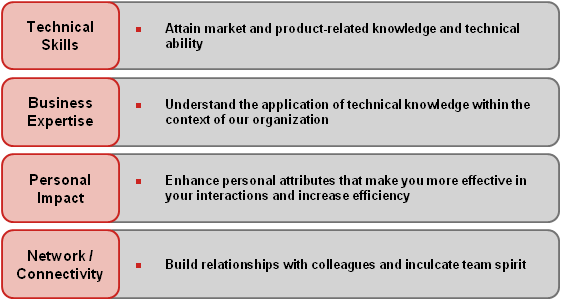 The content covered is validated through learning needs assessments for each program, and designed and delivered with the support of our business managers. Our comprehensive training is provided via a broad means, including classroom sessions, senior speaker series, e-Learning, subject matter experts, buddy and mentor programs and team-building events.