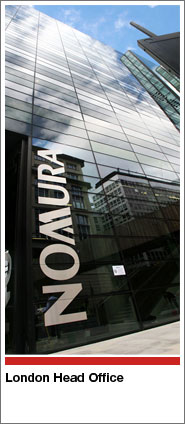 Nomura in Europe, the Middle East and Africa (EMEA)
Our history in Europe dates back to 1986 when Nomura became a registered member of the London Stock Exchange. Much of our early work concentrated on providing clients with a unique view of, and access to, Asian markets. Although this is still true, today our view is both global and domestically relevant to our European clients. We have 4,500 people working across 18 countries in the region and, with over 70 different nationalities working in London alone, ours is a truly cosmopolitan community.
At the end of 2008, Nomura bought Lehman Brothers' Asian operations, and the equities and investment banking business in EMEA as well asseparately acquiring the fixed income franchise in Asia and EMEA. It was an unprecedented move in banking history. Following the global financial turmoil in 2008, we seized the opportunity to build a new service model for the region while other banks were pre-occupied with cost cutting and defending the status quo.
It was a daring plan, which yielded immediate results. In Europe, Nomura catapulted itself into a leading position on many European exchanges, to the surprise of many. It is the entrepreneurial spirit and drive that appeals to our people. We are transforming Nomura and the industry outside our historical Japanese base.
Chancellor of the Exchequer, Rt Hon George Osborne, officially opened our new EMEA headquarters in April 2011. This new landmark building, together with the tradition and solidity of Nomura House, is a symbol of our commitment to our people, to our clients and to the City of London.