At Nomura, we are creating a new way of doing business: one in which diversity and inclusion is embedded into our core. Our aim for Diversity and Inclusion at Nomura is simple: we want it to be just how we do business – not an add-on, not a 'nice to have', but embedded into all our practices, policies and business activities. We want our people to be valued for the work they do and respected for their contribution to our firm. By fostering an inclusive culture we are working to create an organisation where exceptional people can build their careers.
Diversity and Inclusion is seen as a key business priority which positively impacts the bottom line by ensuring we can attract, develop and retain the most talented people with the broadest and most valuable experience.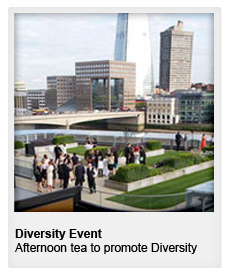 Employee networks
At Nomura we encourage our people to connect, communicate and build lasting relationships across boundaries and in diverse teams. By supporting the development of employee networks and communities of interest, we are breaking down silos, engaging our people and strengthening employee relationships across the globe. Our networks are open to all employees.
Women in Nomura (WIN)
WIN is committed to opening the debate for all employees, men as well as women, on the value of women in business and how a diverse employee base can benefit our people, our firm, and our clients. To put this thinking into practice, WIN regularly partners with the business, adding value to not only women but also the men at Nomura.
LGB network
Nomura continues to build an inclusive environment where all our people are valued based on their contributions, irrespective of their actual or perceived sexuality. To help us achieve this, the Nomura LGB network aims to support lesbian, gay and bisexual professionals and gives them a platform to perform to their highest potential. We encourage and invite all employees to become involved in shaping our inclusive culture.
Employee Life and Families (ELF)
This employee-driven network aims to provide information, awareness and support to all on family and life-management matters. The network runs interactive and informal sessions covering topics ranging from 'Communicating with Kids', 'Improving Stamina Through Food Choices' to 'Effective Parenting'.