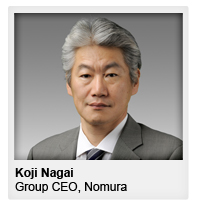 Nomura provides Global Markets and Investment Banking capabilities in over 30 countries around the world. The financial turmoil of 2008 gave us the opportunity to acquire the Lehman Brothers' Asian and European franchise and establish a position as Asia's global investment bank. We have a client-centric model, which enables clients to draw on the expertise and resources of Nomura's global franchise in a seamless way. We provide solutions to our clients through our global distribution, structuring expertise and product capabilities, which provide our clients with a unique view and access to the Asian markets.
Nomura in Europe, the Middle East and Africa (EMEA)
Our view is both global and domestically relevant to our European clients and we have a unique view of, and access to, Asian markets. We have 3,600 people working across 18 countries in the region and, with over 70 different nationalities working in London alone, ours is a truly cosmopolitan community.
Chancellor Rt Hon George Osborne, officially opened our new EMEA headquarters in April 2011. This new landmark building, together with Nomura House, is a symbol of our commitment to our people, to our clients and to the City of London.