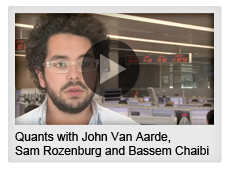 Getting a full time role at Nomura is a great achievement and a unique platform to launch your career. As a firm, we are committed to creating long-term opportunities for top talent in this industry and as such invest significantly in your assimilation into the firm, performance management and career mapping. An intensive training course and continuous on-the-job training and support are designed to accelerate your learning curve and the amount of responsibility you can assume at Nomura.
Once you have chosen the program and region you would like to apply to from our program navigator, please complete our on-line application to launch the process. We recognise that many people are flexible in their thinking about geographic location, so please note that you can apply to more than one region. You will be contacted shortly about the next steps in the process.
Analyst: Apply to this program if you are a recent bachelors or masters student
Associate: Apply to this program if you have, or are currently studying for an MBA and have 2 to 3 years relevant work experience
Quantitative opportunities
For candidates seeking quantitative roles, we look for bachelor's, master's, or Ph.D. degrees in finance, economics or econometrics, accounting, mathematics, statistics, physics, engineering (predominantly electrical and mechanical engineering, or operations research), and computer science. We also consider talented candidates from other disciplines who possess strong quantitative abilities.
Working in a quantitative role at Nomura combines the challenge of cutting-edge research with the excitement of seeing your results put to use. At Nomura, you will find many similarities with the academic world, including a culture of creativity, a respect for intellectual achievement and a cosmopolitan atmosphere.
We look for a specific skill that can be used more or less immediately within a particular facet of our quantitative business. Common examples are proficiency in statistical estimation and data analysis, understanding of derivatives models, knowledge of stochastic processes, and ability to program. It is not necessary to have all of these, but it is important to have some.
Candidates should submit applications at the Analyst level and select Equities or Fixed income. The final entry level will be considered case by case, which will be dependent on your experience.
Application Deadlines
The dates below are final deadlines, but we do review applications on a rolling basis. We therefore advise that you apply as soon as possible.
| | |
| --- | --- |
| Full-time analysts in Global Markets (Sales, Trading, Structuring) | Sunday, 5 January 2014 |
| Full-time analysts in Global Markets Research | Sunday, 1 December 2013 |
| Full-time analysts in IBD | Sunday, 12 January 2014 |
| Full-time associates in GM and IBD | We are currently not recruiting for these programs. However, this is subject to change, therefore please continue to check our website. |
| Full-time analysts and associates in Global Markets | We are currently not recruiting for these programs. However, this is subject to change, therefore please continue to check our website. |
| Full-time analysts in Operations | Friday, 31 January 2014 |
| Full-time analysts in Risk, Technology and Finance | We are currently not recruiting for these programs. However, this is subject to change, therefore please continue to check our website. |