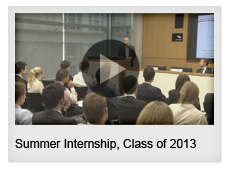 An internship with Nomura is your opportunity to see what you could be part of. You will get first-hand experience of the possibilities a career in banking could bring you, and get a feel for our culture. You will also have the opportunity to create new networks, gain valuable on-the-job training and see what makes us the most exciting proposition in the investment banking world.
We aim to give our interns the same level of exposure as a first-year Analyst or Associate. That means you will work as a full member of the team, participating in team meetings, potentially meeting clients, forming effective working relationships and showing a real commitment to our goals and values. During the course of your internship you can expect to work closely with a buddy and have regular contact with senior mentors.
Application deadlines
The dates below are final deadlines, but we do review applications on a rolling basis. We therefore advise that you apply as soon as possible.
IBD six-month rotational analyst internship program
Sunday, 1 December 2013
Summer analyst internship program in IBD, GM & Corporate
Sunday, 12 January 2014
Spring analyst internship program in GM
Sunday, 12 January 2014
Industrial placement program in Technology
Sunday, 9 February 2014
Industrial placement program in Operations
This program is now full.
Summer associate MBA internship program
Sunday, 26 January 2014
Year-round IBD & GM internships in our European offices
(Madrid, Milan, Paris)
Rolling deadline