As you would expect, you will be well looked-after. Salaries are competitive and reflect the commitment we expect from our people, as well as our position at the forefront of the investment banking industry. In addition, there is a wide range of benefits.

Flexible benefits
We operate a flexible benefits programme, Select. This provides employees with access to a wide range of benefits, including core benefits funded by Nomura and voluntary benefits funded by employees. The benefits on offer include pension, private medical insurance, income protection, gym membership, extra vacation days and many others.
Season ticket loans
We offer an interest-free advance of up to £5,000 to fund travel to and from work.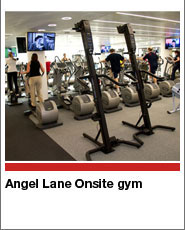 Onsite gym
Our state-of-the-art onsite gym at Angel Lane offers classes and the use of the training area at a subsidized rate.
Medical & dental facilities
We provide health assessments for all employees every two years and have an on-site health centre, which allows employees access to doctor, nurse, physiotherapy and dental services as well as referrals to other specialists via the private medical scheme.