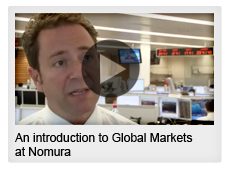 THE BUSINESS
Nomura's Global Markets division handles client transactions for financial institutions, corporates, governments and investment funds around the world. We act as market makers, trading in fixed income and equity securities, including currencies, interest rates and credit in cash, derivatives and structured products. We have taken market-leading positions across the globe by leveraging the strength of our talent, client relationships and technology.
Fixed Income: By developing strong relationships with our client base through consistent interaction, independent advice and pre-eminent access to Asia, we have built a powerful global franchise across interest rates, currency and credit products. Our client services are far reaching across volume driven flow products and carefully tailored and structured solutions. In Fixed Income Research we cover over 90 percent of the world's economic and financial indicators, positioning us to provide timely information that investors can use.
Equities: We have exploited the changing financial landscape to build a client centric focus differentiated by innovation, electronic and service excellence and market leading derivatisation capabilities. We offer our clients superior access and liquidity. We lead the market with our cutting-edge technology and highly diverse sources of order flow. We are now connected to over 50 different exchanges, and our product is live with over 300 vendors in 40 countries. We cover over 1,900 stocks globally in Equity Research, which helps drive our market leading view of the equity markets around the world.
Know Nomura Facts:
No. 1 for client market share on the Tokyo Stock Exchange
No. 1 Transition manager, Global Investor/ISF 2013 for the fourth consecutive year
Nomura wins Best Traders' Platform and Best Execution Functionality for Nomura Live in Profit & Loss - 2012 Digital FX Awards
No. 1 in Nikkei Veritas analyst ranking survey for Fixed Income 2013 for the third consecutive year
No. 1 Institutional Investor All-Japan Research team ranking for the fourth consecutive year
Nomura wins Best Securitisation House - Finance Asia, 2013
THE OPPORTUNITY
If you are fascinated by the markets and their movements, cycles and patterns, then global markets could be for you. You will learn about how the partnership's between the different functions and asset classes create success for us and our clients. Our success is built on:
Unique intellectual capital of research and structuring
Strategically disciplined coverage model of our sales force
Superior risk taking and market making capabilities
WHAT WILL I NEED?
For an Analyst position you should have or expect a minimum 2.1 degree (or equivalent) in any degree discipline. A Masters degree is advantageous but not a requirement. You should be highly numerate and a strong communicator. Fluency in a second European language would be beneficial.
For an Associate role, you must have, or be completing an MBA and have at least 2 to 3 years relevant work experience and demonstration of a strong sense of commerciality.
For Quantitative Analyst and Associate roles, applicants are expected to perform in highly technical positions developing financial models and structures that are used in research, trading and risk management applications. Quantitative Associates should be studying towards or have completed a PhD or equivalent in a relevant area of speciality.
WHAT ROLES ARE AVAILABLE?