Graduated with a Joint Honours Bachelors degree in Biology and Management, Imperial College London, 2011
Currently: Analyst, Loans and High Yield Credit desk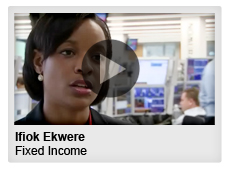 I always had a passing interest in Finance but it was during my degree program that I developed more of an interest in this field. Being from a non-finance academic background, I was keen to complete an internship in a bank where I would have the opportunity to learn as much as I could about the industry, in order to gain a better understanding of what areas my skill set would be best suited for.
One thing that stood out for me, in comparison to other firms, was the structure of Nomura's program, where interns had 2 rotations between the Equities and Fixed Income divisions. This was a key determining factor when it came to making my decision. Although I initially thought I might be better suited to an Equities role, my skill set and interests turned out to be much better inclined to a role within the Fixed Income Division.
I interned in the Fixed Income FX Sales team and then with the Equities Cash Sales Trading team. On both teams, my day typically started at around 6.30 am to 7.00 am, with a trading meeting, after which I would put together a summary of the key details and email this to the team. Following the meeting, there would be desk-specific meetings in order to organise tasks for the day before the markets opened for daily trading. After trading, I would often assist the team with tasks such as reviewing the days' trades with the settlement teams to ensure they had been booked correctly etc. On the FX Sales desk, I also helped out with specific ad hoc projects, which included building an Excel model that was used as a platform to structure sales strategies for the team members.
In my current role on the Loans and High Yield Credit desk, my day tends to start around 7.30 am with a morning meeting call. After this call, I put together a summary of news highlights from Bloomberg, relating to the companies that we manage in our loan portfolio. During earnings season, I will put together earnings summaries for the specific names in the portfolio that I am responsible for and circulate these to the relevant teams and people within the bank. If there is a 'live' deal being assessed by the desk, there will often be a series of meetings with colleagues across the Investment Banking, Finance and Risk Management divisions to discuss and analyse the merits of the deal before it is sent to the necessary approval committees. A recent highlight for me was the Management Buy-Out of Iceland Foods – it was the first deal I was responsible for from start to finish and it was a thrill to see it announced in the news upon completion!
I find the Investment Banking industry fascinating and am looking forward to gaining more experience and progressing at an even faster pace with my career over the next few years.