A priority for Nomura Group has been to implement strong corporate governance practice across the group. NBL strives to remain ahead of developments and new regulatory requirements in corporate governance.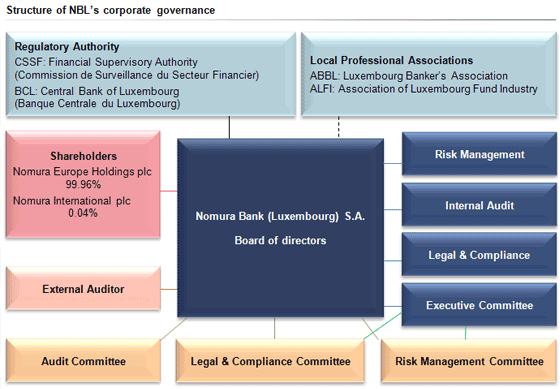 NBL's next steps are to implement corporate governance enhancements including:
The reinforcement of the Board of Directors by creating a new position of a Senior Independent Non-Executive Director.

The review and fine-tuning of definitions and role clarifications between Legal and Compliance, Internal Audit and Operational Risk Management to maximise synergies and ensure best practice whilst retaining robust independent processes.

The completion of the last remaining action steps to fully satisfy all criteria for SOX 404, BASLE II and CAD III compliance and live implementation.