European High Yield Bond Strategy
Our European High Yield Bond Fund, sits alongside and complements our market-leading US and Global High Yield strategies. The fund further demonstrates our commitment to enable clients to tackle the ongoing challenge of low yields and volatile markets.
Our Specialist Credit Research Investment Boutique
The Nomura Euro High Yield Bond Strategy is managed by Nomura Corporate Research and Asset Management Inc. ("NCRAM"), a NAM affiliate. NCRAM was established in 1991 and is an analyst-driven investment boutique that specialises in below investment-grade credit.
Strategy Overview
Fund Manager Steven Rosenthal, CFA, employs a combination of top down and bottom up analysis to identify European high yield issuers with strong and improving credit fundamentals, in summary:
We seek to outperform in all market environments and our Euro strategy has consistently outperformed each year since inception
Our Euro High Yield strategy has the flexibility to invest opportunistically throughout the high yield credit spectrum
Our significant experience managing through several credit cycles as a team allows us to respond actively to changing market conditions
Credit selection is our main driver of alpha generation. This comes from both identifying the best long ideas as well as avoiding mistakes
We believe that our integrated US/Euro high yield management allows us to identify significant $/€ mispricings within roughly 1/3 of the Euro market which also issues in dollars.
The "Strong Horse" philosophy
We believe a total return approach driven by credit research is the best way to generate alpha in high yield. We describe our investment philosophy as the "Strong Horse" philosophy.
Strong Horse companies can carry their debt load through good times and bad. These companies generally have a positive ability to de-lever their balance sheet by generating strong, positive cash flows that are sustainable. The creditworthiness of these companies tends to increase over time, as will their credit ratings.
Past Performance
The composite is a top quartile performer over 1, 3 years and Since Inception (4 years and ten months):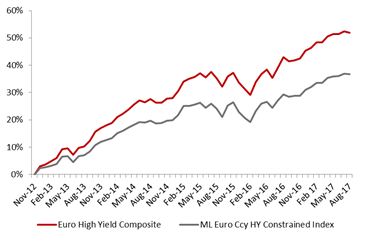 Source: Nomura Asset Management Global (NAM Global). Results shown for the NCRAM Euro High Yield EUR Unhedged Composite, data as at 31/08/2017. Our returns are presented in EUR and are shown gross of fees. Benchmark: BOAML European Currency High Yield Constrained Index (HPC0). AUM as at 31/08/2017. Since Inception: December 2012.
*Source: Mercer as at 31/03/2017. Parameters: Region: Europe; Sub-region: Eurozone; Universe: Eurozone Fixed High Yield
Pooled Fund Availability
The Nomura Euro High Yield strategy is now available for investment via our Dublin-based Irish domiciled UCITS fund and also via segregated mandates.