Our Global Dynamic Bond Fund (GDBF) is a flexible, "go-anywhere" approach to fixed income investing. The fund is unconstrained by benchmark allocations, allowing for the ability to seek attractive total returns by investing across the full market spectrum.
The tools available to the fund include:

Government bonds
Corporate bonds
Mortgage backed securities

Inflation-linked bonds
Convertible bonds
Emerging market debt

Floating rate notes
Cash
Derivatives
Risk control is pivotal
Interest rate and credit risk are managed dynamically and the strategy is limited to a monthly value at risk of 5.75%*. The strategy is offered via a Dublin-based UCITS vehicle, launched in early 2015.
Investment Approach
Return Seeking
We form top-down views of macro-economic and market-driven themes at the global level, based on NAM's in-house research, the portfolio managers' own views and selected third party analysis. These views lead to a diversified portfolio of typically 100-200 bonds, designed to generate income and capital return from expected changes in fixed income markets.
Portfolio Protection
Our strategic holdings give rise to shorter term risks: credit and duration risk, primarily. We use the widest possible range of fixed income derivatives (and even equity put options where appropriate) to mitigate and manage these risks with an emphasis on efficiency. Using these instruments, the risk exposures of the Fund are dynamically adjusted around the longer term strategy, to cope with periods of volatility and rising yields.
About the Portfolio Manager - Richard 'Dickie' Hodges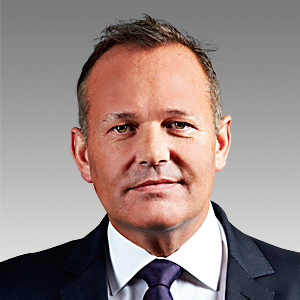 Dickie joined NAM in November 2014 to launch the Global Dynamic Bond Fund. Prior to joining NAM, Dickie held the role of Head of High Alpha Fixed Income at Legal & General Investment Management (LGIM), managing its "Dynamic Bond Trust" – an unconstrained fixed income fund. He managed the Dynamic Bond Trust from its inception in 2007 until
April 2014.
Awards and Accolades
Dickie Hodges was awarded a AAA Citywire rating as at February 2019.
Morningstar Overall Ratings as at 31-01-2019. Copyright © 2018 Morningstar UK Limited. All Rights Reserved. The information contained herein: (1) is proprietary to Morningstar and/or its content providers;(2) may not be copied or distributed; and (3) is not warranted to be accurate, complete or timely. Neither Morningstar nor its content providers are responsible for any damages or losses arising from any use of this information. Past performance is no guarantee of future results. Morningstar rating based on the lead share class: Global Dynamic Bond Fund I USD.
Commentaries and Reports
Institutional GBP Hedged Share Class
Institutional USD Share Class
Fixed Income at Nomura Asset Management
Dickie draws extensively on NAM's global fixed income team to provide both top-down strategic and bottom-up asset selection ideas for the GDB Fund.
More than 100 portfolio managers, analysts, economists and traders are dedicated to supplying information and ideas for our global fixed income strategies. The NAM Group has managed Fixed Income investments since 1989. Today we manage portfolios on behalf of some of the world's largest institutions, including Pension Schemes, Central Banks and Sovereign Wealth funds.
For more information on the Global Dynamic Bond Fund please contact us at info@nomura-asset.co.uk.
* Ex-ante monthly VaR, 99% confidence interval. This means that in 99% of outcomes, the Fund will experience a loss of no greater than 5.75% in a given month.

Citywire information is proprietary and confidential to Citywire Financial Publishers Ltd ("Citywire"), may not be copied and Citywire excludes any liability arising out its use.