Our investment philosophy is that a sustainable level of high ROE will lead to growth in shareholder's equity, which in turn leads to stock price appreciation. This is because there is a positive correlation between P/BV and ROE. If the level of ROE increases, valuation will also increase, benefiting the stock price performance. As long as the high level of ROE is sustainable, there is no reason to believe that the valuation will decrease.
Anyone can invest in companies based simply on their current level of ROE. However we do not believe this would be successful – even if the current ROE is high, P/BV will decrease if the direction of ROE is downward.
Both the future level and the direction of ROE are vital – this is where our experience and expertise can add value.
This high conviction portfolio is composed of around 30 stocks, which allows Harada-san and the team to represent their best ideas whilst still allowing for ample diversification against unexpected downside risk.
Investment Style
Our investment objective is to construct a concentrated portfolio of our best ideas, aiming to capture stock appreciation combined with the long term sustainable growth of shareholders' equity.
Our concentrated and unconstrained approach is:
100% bottom-up, within a disciplined and repeatable framework, and supported by extremely large research resources
Has no sector constraints
Has a long-term investment time horizon
Commentaries
About the Portfolio Manager - Shintaro Harada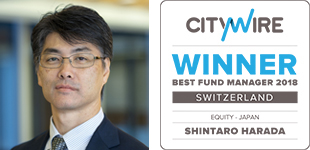 Shintaro Harada has over 25 years of investment experience and has been managing Japanese equity portfolios for Nomura since 1993.
In March 2018 Shintaro Harada won Citywire's "Best Fund Manager" award in their "Equity – Japan" category in Switzerland for his management of Nomura's flagship Japan High Conviction Fund.
Pooled Fund Availability
The Nomura Japan High Conviction strategy is available for investment via our Dublin-based Irish domiciled UCITS fund.