We believe the Japanese market is not fully efficient and that active management based on fundamental research will add value.
The portfolio management team aims to select fundamentally attractive companies through intensive bottom-up research focusing on high return on equity (ROE) and competitive positioning in the relevant industry.
Investment Style
Our investment objective is to construct a concentrated portfolio of our best ideas, aiming to capture stock appreciation combined with the long term sustainable growth of shareholders' equity.
Our concentrated and unconstrained approach is:
Bottom-up, within a disciplined and repeatable framework, and supported by extremely large research resources
Large-cap market bias
Has no sector constraints
Has a long-term investment time horizon
Our Investment Approach
Invest in fundamentally attractive companies that can sustain high ROE over the long term
Only companies capable of sustaining high levels of ROE and a demonstrable competitive edge can be included in our stock universe.
Positioning of individual stocks within the portfolio based on factors such as competitiveness and differentiation
Build a concentrated portfolio of approx. 30 stocks based on the above criteria
Select best 30 stocks focusing on analysis of top-line growth, ROE, and other fundamental factors including: effective business strategy, management capabilities and competitive advantages relative to peers.
About the Portfolio Manager - Shintaro Harada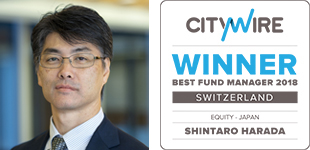 Shintaro Harada has over 24 years of investment experience and has been managing Japanese equity portfolios for Nomura since 1993.
In March 2018 Shintaro Harada won Citywire's "Best Fund Manager" award in their "Equity – Japan" category in Switzerland for his management of Nomura's flagship Japan High Conviction Fund.
Background to Investing
Sell-side research providers have scaled back their coverage of Japanese stocks over the years, leaving this market under-researched and isolated in global investment terms. Nevertheless, many attractive Japanese companies have maintained outstanding competitiveness in both the global and domestic markets. Our unconstrained strategy, which concentrates on investment in stocks with sustainable high ROE and a competitive edge, aims to take full advantage of the unique opportunities available in this market.
Click here for our latest thoughts on the Japanese equity market, as first published in Citywire in May 2018.
Pooled Fund Availability
The Nomura Japan High Conviction strategy is available for investment via our Dublin-based Irish domiciled UCITS fund.